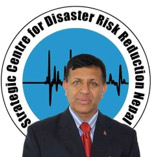 Dear All Viewers
The Strategic Centre for Disaster Risk Reduction Nepal (SCDRR-Nepal) is committed to work in the field of Disaster Risk Management in Nepal. You are kindly requested to view our website and feel free to provide us your valuable feedback in info@scdrr.org.np.
A successful Crisis Management required an integrated approach of all available national and international stakeholders. Therefore, we also look forward to establish relationship with other donors and partners to work together for common goals.
Letís join together to make Nepal a disaster resilient country.
Sincerely
Ratindra Khatri
Executive director
SCDRR-Nepal
ratindra@scdrr.org.np